Queen of Winter Balm - ROMI Apothecary
Queen of the WinterBalm is packed with nourishing and protective oils to make your cold-climate-dwelling skin happy. Botanical seed and nut oils, infused with a bouquet of fresh herbs, are combined with honeyed beeswax to create a luscious, melt-on-contact balm.
It is soothing, rich, and scented lightly with beautiful floral jasmine and sensual elemi. The balm soaks in well and dries down, making it a great daytime element underneath makeup or sunscreen. Customers have told us it helps with stubborn eczema rashes and also protects against wind-burn during outside activities during fall and winter.
Properties:
A glowing rose-caramel-colored balm that is soft and velvety. It coats your skin with protection and provides you with floral fortitude to go about your day. Midwest-grown marshmallow root, rich in mucilage, adds soothing, softening, and moistening properties.
Lavender, Rose, Elderflower, and Helichrysum are also infused into cold-pressed organic jojoba oil and then double-strained to be combined harmoniously with Wisconsin-grown cranberry seed oil, Oat oil, Buriti fruit, and Seabuckthorn fruit oils. This extraordinary combination adds high levels of carotenoids and vitamin A for free-radical protection and collagen-supporting effects.
Instructions:
Add a pea-sized amount of this beautiful balm as the final layer in your skin routine to experience it's highly effective barrier shield against cold, dry, and wind-biting conditions. Make sure to prepare your skin with one of our ROMI toners to add some hydration before layering this balm on top.
This balm is very multi-purpose! Use it as a cleansing balm, hair mask, or on any other parts of the body that need soothing protection against the elements, like elbows, knees, hands, and feet.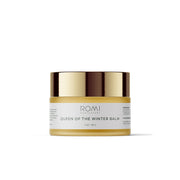 Queen of Winter Balm - ROMI Apothecary