Soul Cards Tarot - Blush Pink
This modern and luxurious limited-edition tarot deck was created to elevate your daily rituals.

There are 78 cards in this classic custom tarot card deck; the Major Arcana has 22 cards, while the Minor Arcana has 56.

Note: This deck does not include a guidebook.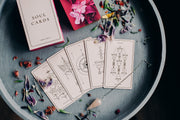 Soul Cards Tarot - Blush Pink