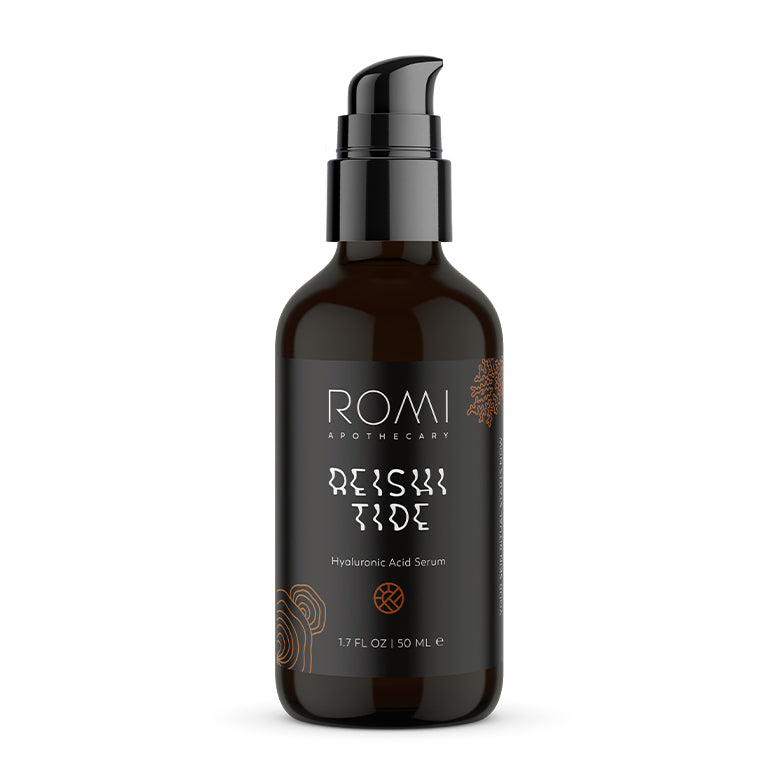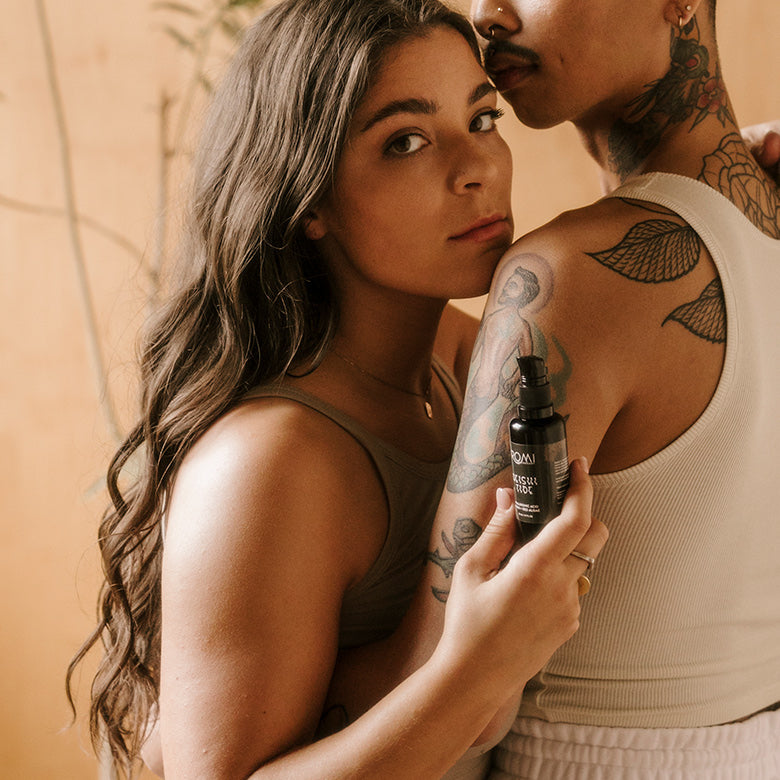 Reishi Tide Hyaluronic Acid Serum - ROMI Apothecary
This formulation reflects the poetic journey of an island-dweller finding love in the deep forests of a Northern land, longing for the nourishing sea-vegetables of the Pacific while discovering the untold healing properties of ancient fungi plucked from fallen hemlock.
Every ingredient serves a purpose in this formula, and that purpose is directed at filling your cup with soothing, moisture-rich botanicals from the land and sea, for long-lasting hydration. We use sustainably-cultivated reishi derived from mycelium that is regularly tested for purity and heavy metal tracing. The red algae is sustainably wild-harvested from the pristine coasts of Orcas Island and dried in the sun for extra vitamin D infusion. We even added pure Douglas fir hydrosol not only because it smells wonderful but as a respectful nod to the symbiotic nature of Reishi's growth on hemlock trees, reflecting the cyclical mycelial patterns of death and rebirth.
Properties:
Hyaluronic Acid + Reishi Mushroom + Red Algae
A unique hyaluronic acid serum that combines the mycelial wisdom of reishi and the marine hydration of red algae. Long and short-chain hyaluronic acid molecules provide potent hydration that penetrate the dermal layers and continuously feed the skin with much-need moisture. When used daily, this serum will act as a super boost to re-hydrate dry skin and help to maintain a healthy skin barrier.
Red algae is rich in polyunsaturated fatty acids and polysaccharides that exalt high moisture retaining properties and helps maintain skin elasticity (Chan, P., 2014). Ganoderma lucidum (Reishi) extract encourages faster cell renewal, contains antioxidant enzymes to protect skin from oxidative damage, and can suppress hyper-pigmentation of the skin (Wu, Y., et. al, 2016). Our 2% concentration of bacteria-derived hyaluronic acid from the Streptococcus equi. strain is completely vegan and will invite moisture to intermingle with water and enter your pores, plumping them up with a nice moisture coat that invites other bioactive compounds to enter as well.
Instructions:
Use two pumps of serum onto clean, damp skin. Since hyaluronic acid attracts and holds moisture, prep your skin with the moisture it is to retain (pair with our Elderflower hydrating toner!). The serum will feel slightly tacky for a moment but will quickly dissolve. Follow with ROMI facial oil or moisturizer afterwards. This will lock in the hydration and slow down the transdermal evaporation of water from your skin. We recommend our Queen of the Winter oil or the Naked Moisturizer.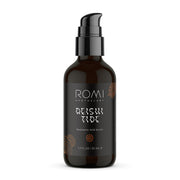 Reishi Tide Hyaluronic Acid Serum - ROMI Apothecary